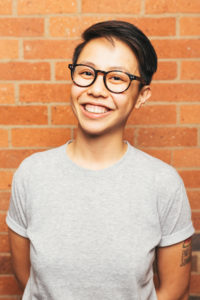 Mary Duong | Writer/Producer

Focused on developing a strong narrative voice and a subtle touch, Mary revels in telling untold stories that are almost uncomfortably close to home, while exploring themes of community, human nature, and identity.
She's quite keen on web series and digital content. Mary created, co-wrote, and co-produced Two Weeks, an LGBTQ drama web series, which has screened at festivals in Australia and abroad. The series premiered as a feature-length piece at the Brisbane Queer Film Festival 2018. It won the inaugural Best Student Series award at the Melbourne WebFest 2017, Best Web Series at the Long Beach Indie International Film, Media, and Music Festival 2017, and the Industry Panel Award at the UK WebFest 2017.
Mary co-produced the pilot episode of the politically-minded comedy series For A Good Cause funded through the Screen Queensland SQ Shorts program in 2018.
She has sound designed a number of short films, most recently on Post Mortem Mary (Joshua Long, 2017), Now A Minor Motion Picture (Angus Kirby, 2017), and The Mother Load (Loani Arman, 2018). In 2016, she was honoured to receive the Greg Bell Student Encouragement Award from the Australian Screen Sound Guild.
Currently, she is producing a factual short-form series through the Screen Queensland/SBS Unscripted initiative called Bananas (co-created and directed by Rachel Anderson) about living between two cultures as an Asian-Australian. Her series Two Weeks is also in early stages of development for a second season.
Mary loves noodle soup, oxford commas, and inclusive representation on-screen that feels like a celebration. She is driven to create content that she waited to see when she was younger.